As per Wimbledon tradition, the players….and the grass…get a rest on the middle Sunday of the tournament. That does not mean that the Sunday Slice, my weekly segment, gets a rest. As a matter of fact, now is the perfect time for a little fashion fun!
Battle of the Headbands!!
Who Wore It Best?
We will start with the original trendsetters and tennis legends, John McEnroe and Bjorn Borg. Much has been written about this rivalry, but lets answer the question, who wore the headband best? John's wild bird's nest of a hair is no match for Borg's shiny, smooth golden locks. Borg for the win!
Next up, Rafa Nadal vs Roger Federer. This is a tough one, and one, I feel, that has to be broken down to "young" Rafa/Roger and "older" more mature Rafa/Roger.
When they were both coming on the scene in the early 2000's, I was like, "who are these jokers and what's with the headbands?" Much to my chagrin, this trend started up again and is still the preferred method of locks control for many tennis players on tour, men and women alike. In the younger days, I have to say Roger Federer wore it best.
Then as they both matured, and still rocked the bands, Rafa Nadal really came into his own, and I now think he wears the headband best.
Now to some more recent additions to this headband craze. Here are two "breakthrough" players who are on the cusp of greatness trying out the style, Dominic Thiem vs Sascha Zverev. I have written much about "Sweep the Leg" Thiem during clay court season because he was one of the the only ones to get a win off of Nadal this year. Like his win on clay, I have to give him the win in Battle of the Headbands.
Dominic Thiem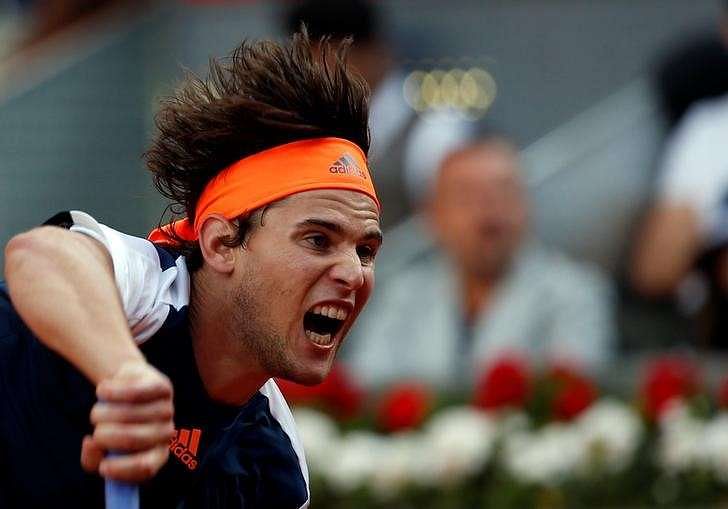 Sascha Zverev
Now we have the battle between USA and Canada. First up, Jared Donaldson. Next-gen player on tour, from the US. His opponent, Canadian Milos Raonic. This is a tough one because both started sporting the headband recently, so I don't have much to go by. But I think I will go for my countryman, Jared Donaldson, for the win.
Jared Donaldson
Milos Raonic
So, our final winners are:
Bjorn Borg – best traditional
Roger Federer – younger year's style
Rafa Nadal – mature year's style
Dominic Thiem – breakthrough
Jared Donaldson – USA
Let me know your thoughts. Did I get it right? Did I miss anybody? Would you have picked different winners?
Enjoy your Sunday everyone, and I will be back tomorrow for Manic Monday.
Facebook: http://www.facebook.com/fraziersracket
Twitter: http://www.twitter.com/fraziersracket