Did you know that the average cat sleeps 16 hours a day? Well this old cat didn't get a wink of sleep at all last night during the five-set thriller between Stefanos Tsitsipas and Aussie's own, Thanasi Kokkinakis!
After being out with injuries and illnesses for several years, Kokkinakis entered the grand slam in true rock star fashion, beckoning back to one of my favorites, Billy Idol. Who's Your Idol?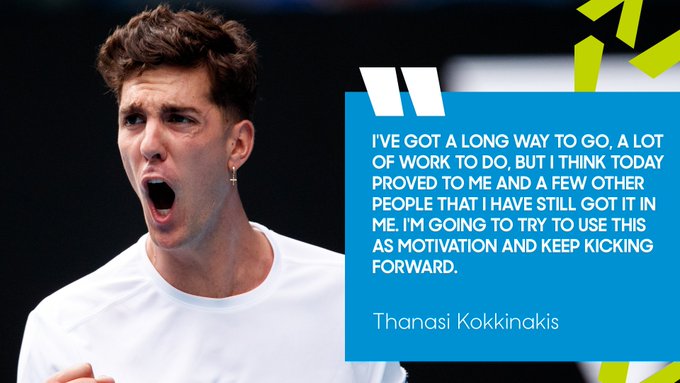 Sure, on paper, Thanasi Kokkinakis was the underdog, wild card going in. Tsitsipas, ranked #6 in the world, should have had this match wrapped up in a bow in short order. But this is Australia, and this is one of their own! And this is grand slam tennis in front of real live crowds…something we haven't seen (or heard) since last year, and Thanasi had other plans!
Thanasi clinched the first set in a tiebreak, 7-6. Tsitsipas took the next two sets easily, 6-4, 6-1, and I thought for sure this is lights out for Kokkinakis (and for me…night, night). But no! Kokkinakis found a place deep inside this heart, and legs, and lungs, and managed to come back in the fourth set and win it in a tiebreak, 7-6.
Now we are down to the final set. Do I make a pot of coffee or just watch the drama play out? I went to the kitchen, opened the coffee can and took a deep breath! That was a enough for me…I thought, if Thanasi can fight through this, so can I! Of course, he downed a vile of pickle juice to keep his spirits up. To that, I say "no thanks."
Thanasi fought hard, but Tsitsipas fought just a bit harder. In the end, Tsitsipas wins the fifth set 6-4. I was crushed. Thanasi was crushed. The crowd was crushed. But there is nothing one can do in a moment like this…except appreciate what you just witnessed! It's moments like this that give me all the feels. Amazing tennis played with heart and soul.
Now, if you will excuse me, I've got to get my beauty rest.
ZZZZ…..