Rain, you're ruining my tennis vibes! Yesterday, it looked like you were going to cooperate. We had the beginning of what could have been a French Open classic! Roger Federer against Stan Wawrinka, two Swiss players who know each other well. One, coming back from injury, the other back to prove a point.
It was a close match. Both men are in their 30's, but you would never know it by the powerful one-handed backhands they were smashing across the net. One is a graceful dancer, the other a bull in a china shop. The first set went to a tiebreak, with Fed coming out on top. Stan took the second set, 6-4. The third set was close…so many break opportunities from both, but Fed eventually won it. Then the dark, ominous clouds lurked in the distance of that fourth set, but they played on, tying the set at 4-4 before play was suspended due to rain. Once the players were back, it took Roger no time all to win the fourth set, 6-4. Sorry Stan, maybe another time.
And then, today….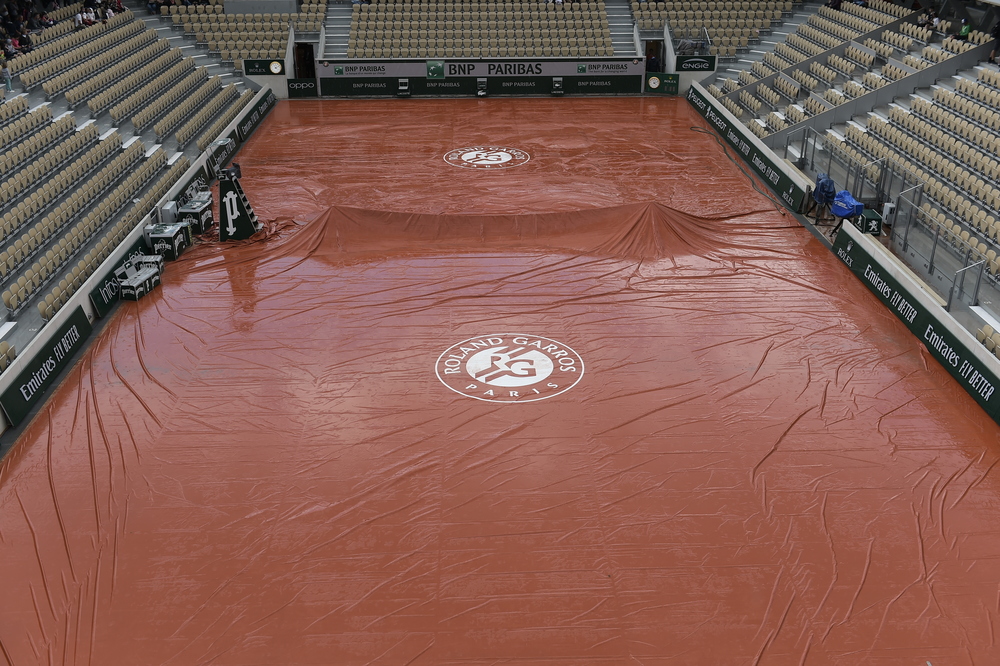 Image: ©Philippe Montigny / FFT
Completely rained out! Don't they know my human cleared her calendar so she could watch the quarterfinal matches? Mother Nature doesn't care. She had other plans.
Either way, my human and I will tune in tomorrow to see what happens. Will Sascha Zverev beat Novak Djokovic, improving on his grand slam purrformances? Not likely…Novak is playing very solid tennis. Will Dominic Theim continue his clay court dominance against Karen Khachanov? I hope so! I have him pegged to win!
We will have to wait and see.
Follow me on Facebook and Twitter:
Facebook: http://www.facebook.com/fraziersracket
Twitter: http://www.twitter.com/fraziersracket