It's happening! Or at least I think it is? I believe we are witnessing a changing of the guard in the men's tennis world.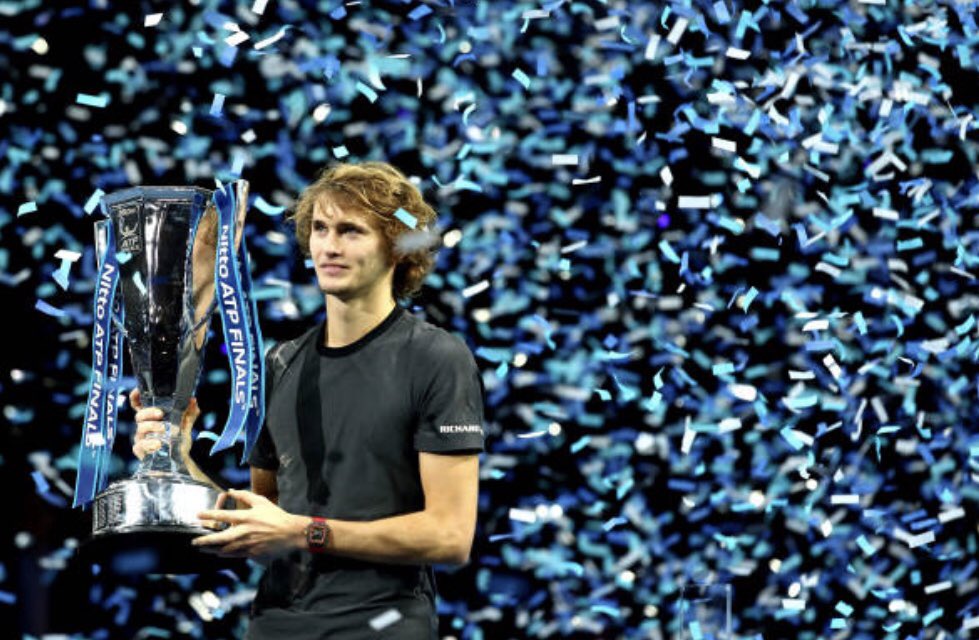 This week was the year-end ATP Finals in London. The top eight ranked men's players gather in London, England to battle for the final title of the year. If you've been keeping an eye on men's tennis for the last couple of years, you will recall Roger Federer and Rafa Nadal dominated 2017 winning two majors each between them. And then this year, something interesting happened. Novak Djokovic got healthy, rehired the team he fired just a year earlier, dominated the second half of 2018, and ended the year at #1! Bye Roger. Bye Rafa. Bye Felicia! (Don't worry, Rafa and Roger are still ranked #2 and #3, respectfully).
So, it was no surprise that Novak Djokovic made it to the finals today. His opponent was 21 year old German, Sascha Zverev. Yesterday, Zverev had to play Roger for a spot in the finals and beat him in two sets that ended in a dramatic tiebreak. If you watched this match (or if you watched Good Morning America this morning where they talked about the incident and referred to Sascha simply as "Roger's opponent"…shame on you, GMA) you would have seen a freak accident of a ball kid dropping a ball mid-point, automatically forcing the players to stop and replay the point. This gave a slight advantage to Zverev, but let's be honest…he was outplaying Federer, paws down, but not by much!
Hiss, I digress…
Anymeows, I could have told you Zverev was the dark horse coming into this tournament. He was primed to do well. He's played an incredible season, he is young (average age of the top four is 32.5, and Sascha is #5 at 21 years old), and he's improving. He just hired Ivan Lendl to join his coaching team, so I predict he will win his first major next year.
Today's match against Novak looked nothing like the Federer match. Sascha was in control from the beginning and won the match easily 6-4, 6-3.
Now it's time for some truth serum. You ready? I'm not a huge fan of Sascha, usually because he says stupid things, acts a bit arrogant, and if I am super honest (which, you know I am), I'm not a fan of his hair! It's not really the hair that gets me, but how he wears his headband around the hair. Secretly, I hope Ivan Lendl has a talk with him over the holiday and Sascha surprises us with a new do next season!
But even so, I believe we are witnessing a changing of the guard. Roger can't play forever. Rafa can't either. Novak will probably have a stellar season next year. But I believe it will be Sascha Zverev leading the charge to change the tennis landscape that we have all been familiar with for the last decade or so. Are you ready for some new faces? I am!
Follow me on Facebook and Twitter:
Facebook: http://www.facebook.com/fraziersracket
Twitter: http://www.twitter.com/fraziersracket